Bestqool Red & Near-infrared Light Red Light Therapy delivers safe, concentrated red & near infrared wavelengths of therapeut 2 natural light to your skin and cells, where it reduces oxidative stress and stimulates cellular energy production.Your light works by sending out red & near infrared light in a certain range (660nm & 850nm) of therapeutic wavelength and intensity. This treatment generate a number of health because red light therapy increased production of adenosine triphosphate, which enhanced cellular energy production and elevated protein synthesis. Actual consumption: 250±5W Treatment Guideline It is important to use your light consistently.We recommend using your light everyday, light therapy is like food for your cells. For best results, please positioning your light the targeted area on your body or skin that you want to treat. Treatment Time: 15-30 minutes session per day and at least 4 times per week.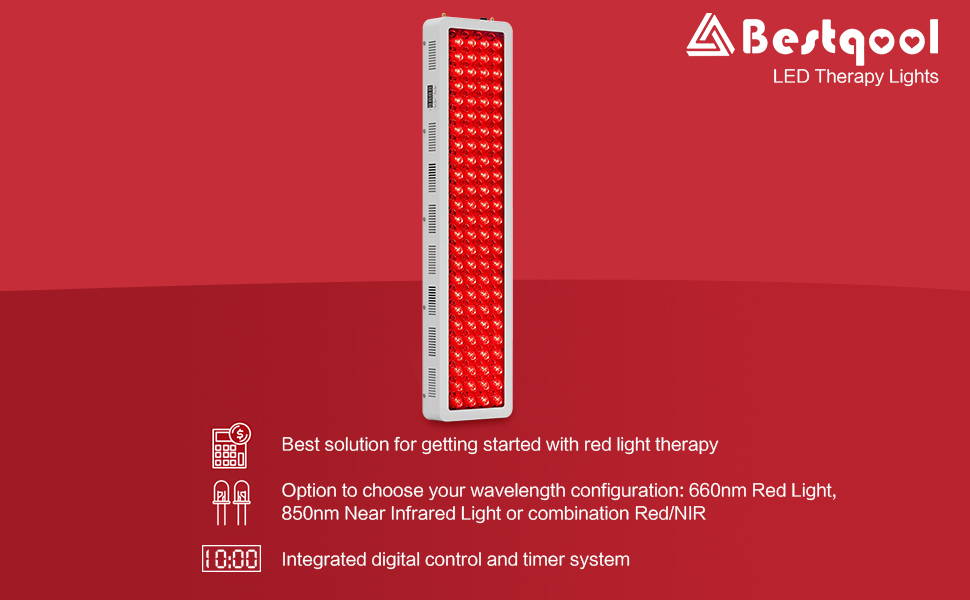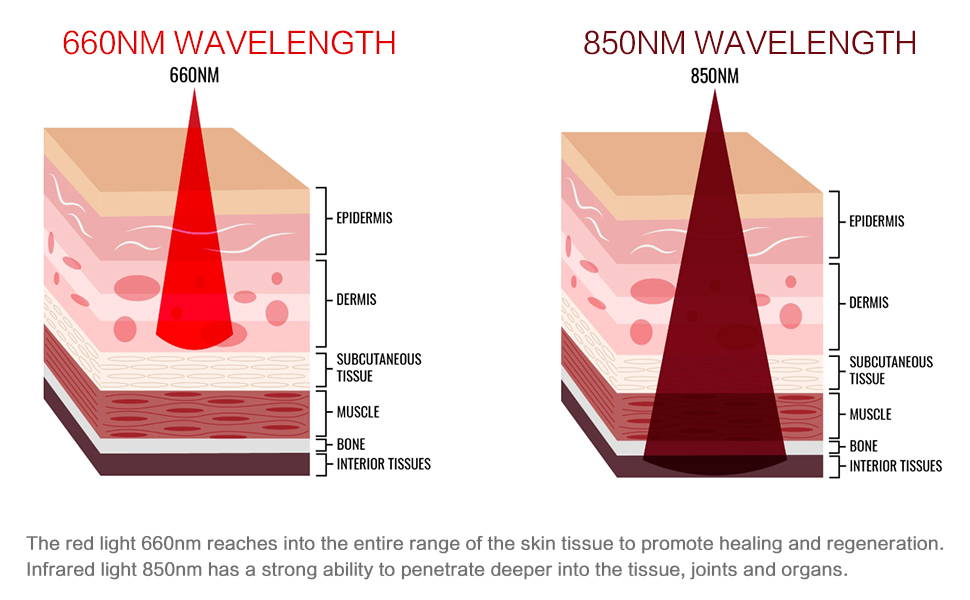 Skin rejuvenation and reducing wrinkless: The 660nm is absorbed at a higher proportion by the skin tissue, making it especially effective for boosting skin health and increasing collagen.
Reduce inflammation and swelling: In a study, the 660nm wavelength was found to reduce both inflammation and swelling by reducing the number of inflammatory cells which lead to the formation of swelling.
Accelerate wound healing, diminishes scars and burns: The 660nm wavelength has been proven to increase the formation of new blood vessels and enhance collagen deposition to help in the healing of wounds.
Reduce training fatigue: Nature red and infrared light helps promote antioxidants, which play a central role in reducing the oxidative stress associated with muscle fatigue.
Reduce joint pain and alleviate arthritis: Red and near-infrared light has a significant effect on reducing joint pain and increasing function and activity for people with arthritis.
Red light: 100 pcs. This specific wavelength is absorbed at a higher proportion by the skin tissue, making it especially effective for boosting skin health and increasing collagen production.
Near infrared light: 100 pcs. This light has particularly strong ability to penetrate deeper into the tissue, organs and joints, making it ideal for enhancing muscle recovery and reducing joint pain & inflammation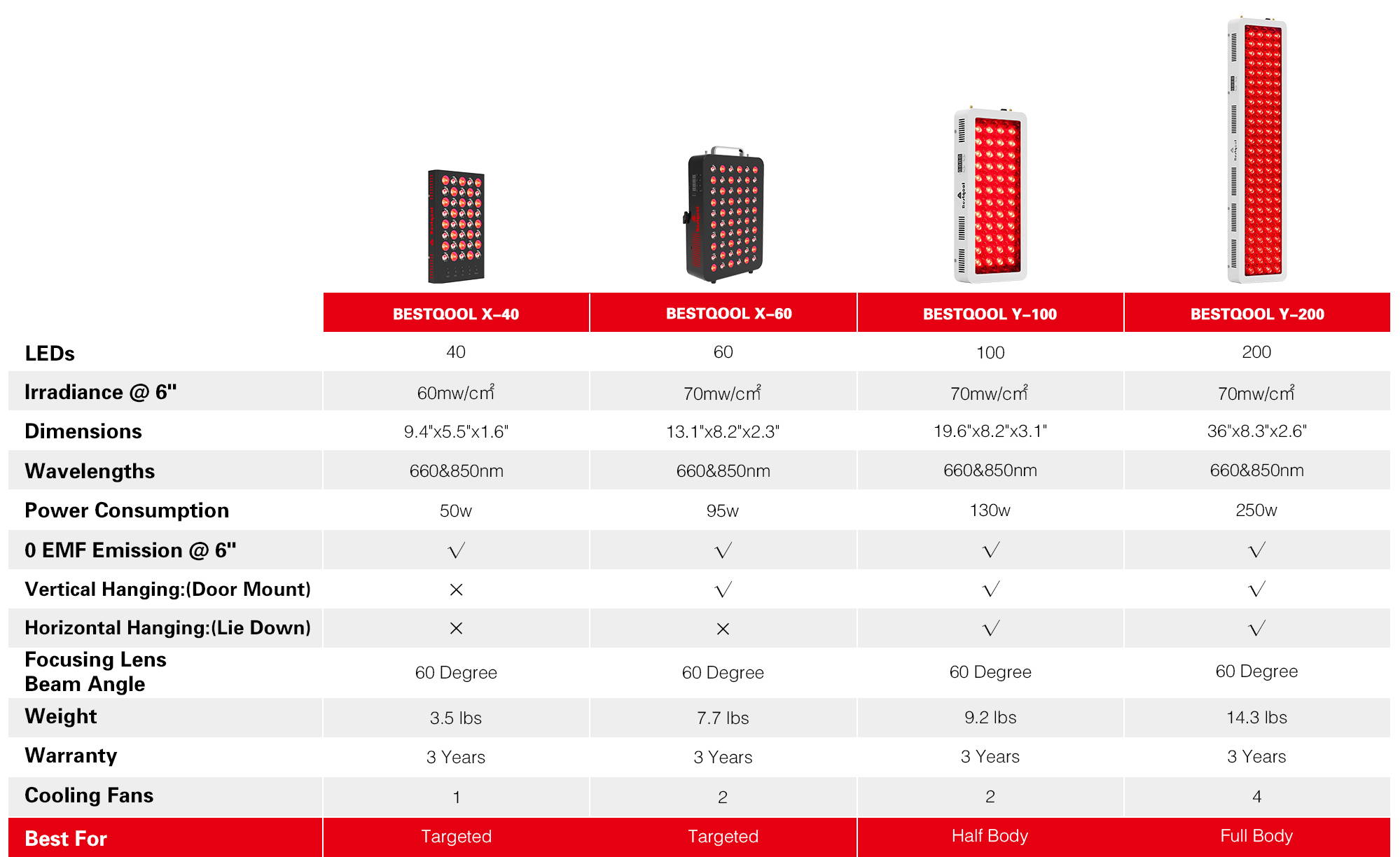 Frequently Asked Questions
Q: How to use my light?
A: Since red light therapy brings energy for your cells, we recommend use your light everyday. 15-30 minutes session for each treatment is necessary and at least 4 times per week. We states more details in our manual, please refer more information there.
Q: Does it have any side-effect by using light therapy treatments?

A: In numerous clinical studies, red and near infrared light has been proven that it is safe, natural,non-invasive treatment. Patients experienced less pain and inflammation injuries and medical procedures. All without the side effects and major health risks you get with prescription pain medicines and invasive procedures.

Q: Should I wear protective goggles during treatments?
A:Yes, eye protection is necessary, the goggles comes with your light. We recommend wear your goggles before the treatments.

Q:How is this device different from the other light therapy devices?
A:Firstly, our therapy device has 250±5W actual consumption, which is the true consumption. The higher power consumption means better result by using the light. Secondly, our device has multiple installation methods for customers, so customers can easily handle the different applications. Saving lots of money from getting a powerful therapy device at home. Thirdly, we are a factory owned seller, which means customers will always get best buy and best service without any middleman between the business.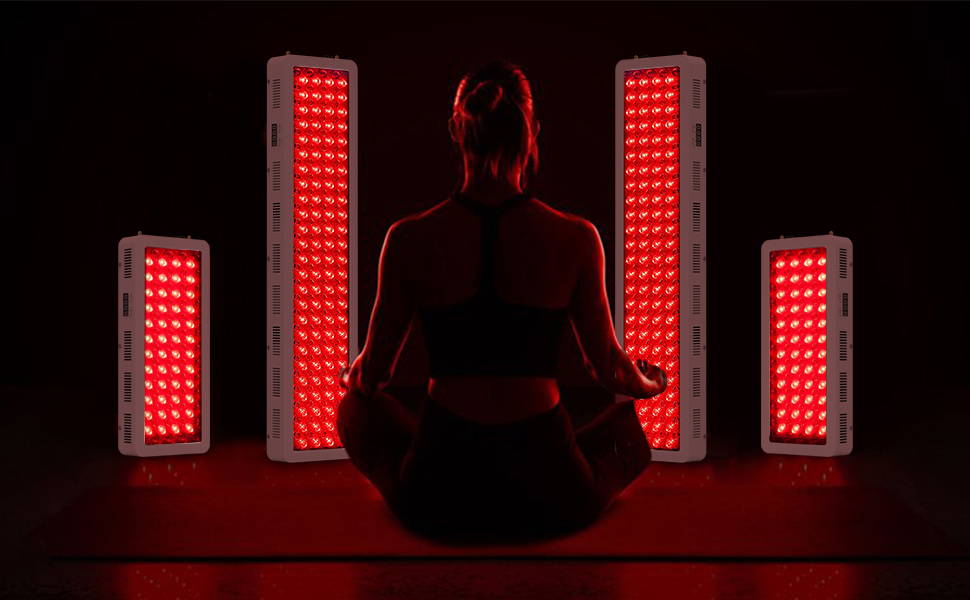 Your question is matter to us
Send us free text message to: +1(800) 351-3906 for faster reply

Email us: bestqoolamz@gmail.com
----Bestqool NA headquarter customer service team