7 in 1 Led Light Face Therapy
7 Colors PDT LED Light Therapy Mask delivers safe, concentrated wavelengths of natural light to your skin and cells, with no chemicals, UV rays, or excess heat.A natural, non-invasive treatment.
Suggested Treatment Time: 20-30 minutes session per day and at least 5 times per week.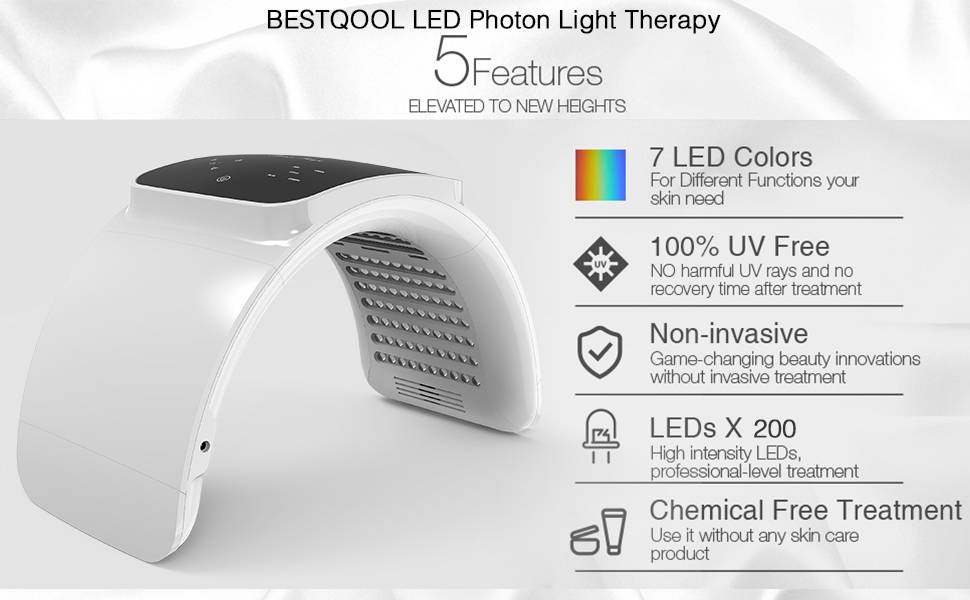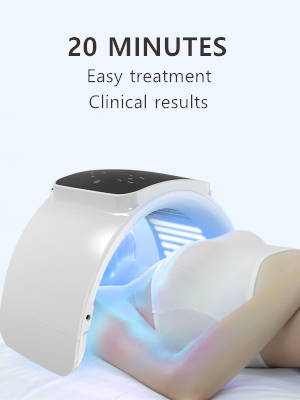 Facial Skin Care Beauty Device for Anti Aging Skin Tightening Wrinkles
The LED photon beauty machine designed for facial & body beautification, uses natural light waves which are transmitted by LEDs into the skin
Benefits:
Increases collagen production
Reduces joint pain and inflammationTightens Skin Improve PigmentationReduces Skin Grease
Smoothes Skin and Reduces Redness

Natural Light Waves Improving the Look of Skin

7 Colors Multi-Purpose Skin Solution

Painless & Non Invasive Treatment

Perfect Solution for Sensitive Skin
7 Color LED Mask Photon Light Skin Rejuvenation Therapy Facial Skin Care Machine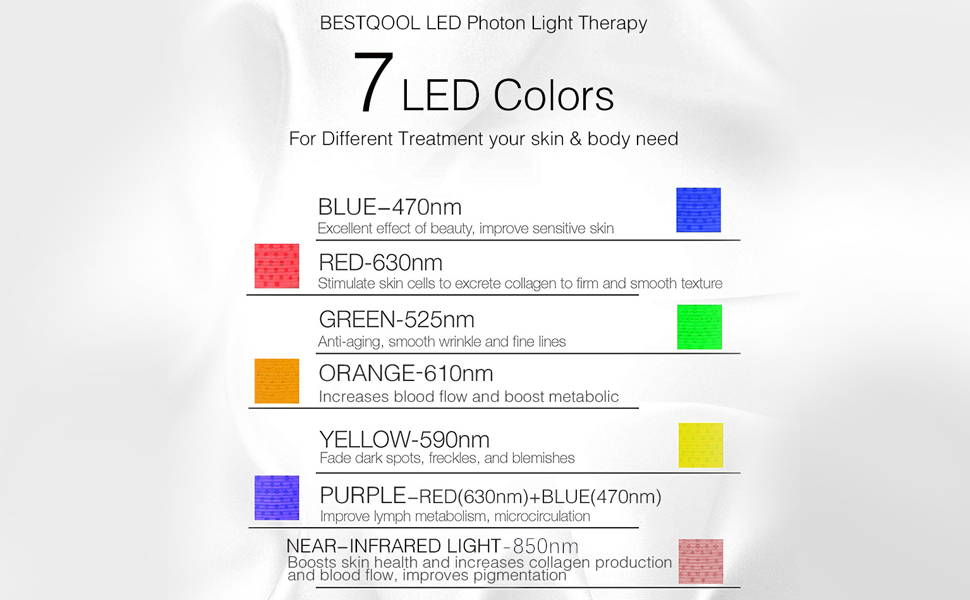 200 RGB ultra-efficient Led beads upgraded to emit the most optimal wavelengths
Red light- Increases blood flow and collagen production
Blue Light- Acne treatment, inhibition of sebaceous gland
Green Light- Improves pigmentation and fine lines
Yellow Light- Smoothens skin and reduces redness
Orange Light (red+yellow)- Increases blood flow and boosts metabolism
Purple Light (red+blue)- Relaxing, improves skin
NEW Near Infrared Light (850nm)- Boosts skin health and increases collagen production and blood flow, improves pigmentation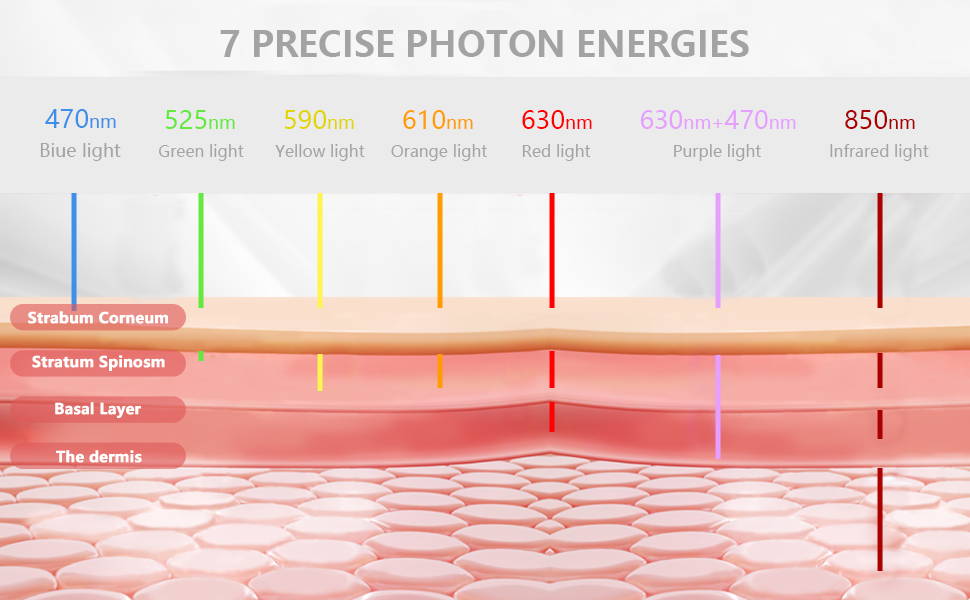 Automatic Optical Cycle Mode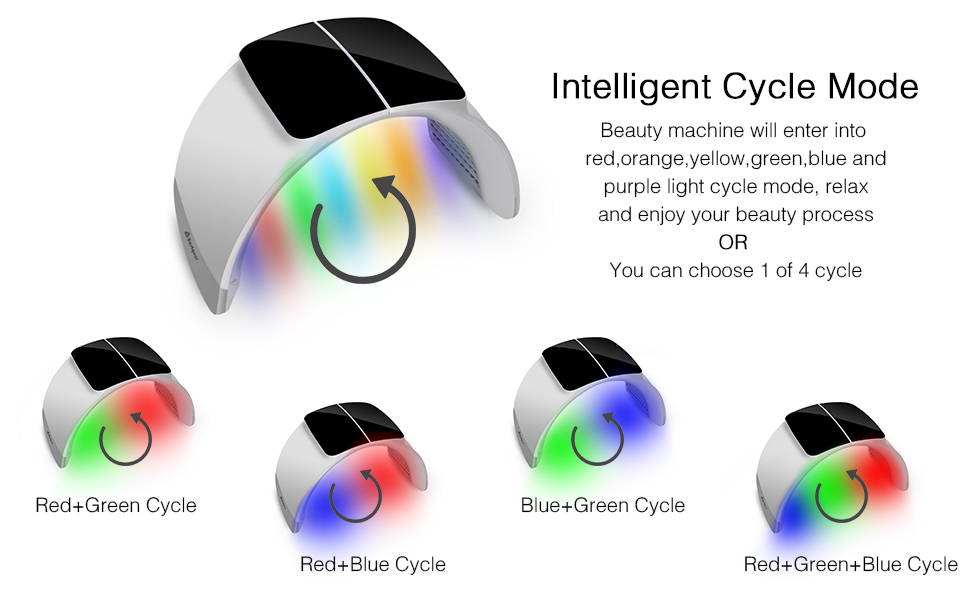 Choose any cycle mode you like then relax and enjoy your beauty process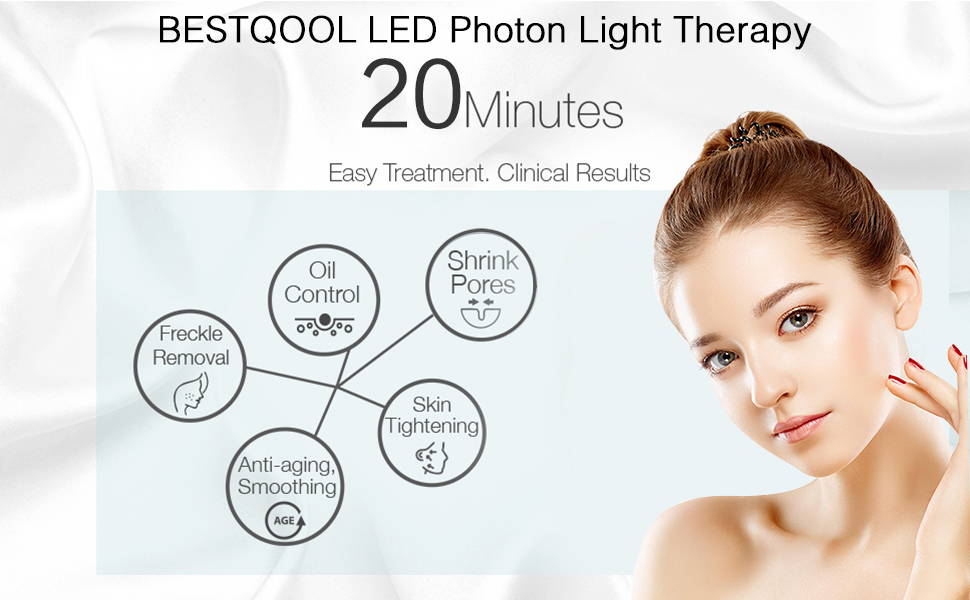 GETTING STARTED
You will see the amazing results and health benefits by consistently using your photon LED light therapy device. The benefits have been proven by numerous studies, so trust that your skin is benefiting from every treatment session. Normally it takes 1 month to see the improvements in skin and health issues. Start to use your light today and you will have a healthy and beauty life.

Frequently asked questions
Q: Can this Led light therapy help with wrinkles?
A: Yes the Led light therapy can reduce wrinkles technically, it can increase collagen product, which means skin rejuvenation. Not only reduce wrinkles, this therapy light can also boost skin health.

Q: Any automatic Optical Cycle Mode?

A: You can cycle through all of the color, or choose another 4 cycle which is : red+green cycle , red+blue cycle, blue+green cycle and red+green+blue cycle

Q: How long should I use it for anti aging? Can I use for 10 minutes a day only?

A: You will want to start with one 20-30 minutes treatment, 5 times a week to see the better results.
Q: how often can it be used?

A: We recommend use it everyday, or at least 5 times per week. The suggested operating time is between 20 and 30 minutes. And you need to choose the right light color for you treatment purpose.Red light- Increases blood flow and collagen production, reduce wrinkles and tightens skin.Blue light- For acne treatment, reduce sebum production

Q: Is eye protection required?

A: As a therapy light, we want customer to be safe.Generally, we require customers to use goggles before shin it to face, since some people might be sensitive to bright lights.If you think you are not sensitive to bright lights. Then you are okay to shine the lights without goggles.

Your question is matter to us
Send us free text message to: +1(800) 351-3906 for faster reply
Email us: bestqoolamz@gmail.com
----Bestqool NA headquarter care team